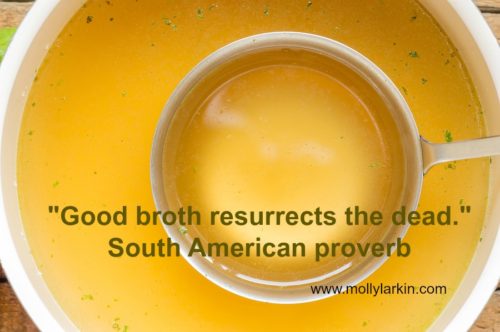 In 1993, while traveling with a family of Maoris through the Australian outback, I fell in love with bone broth.
I had gone to Australia to assist Lakota elder Wallace Black Elk at a conference of Native Americans, Maoris and Aborigines.
It was my first introduction to Maoris. These indigenous people of New Zealand are fun-loving, always laughing, singing and cooking and often invited the other elders and teachers over to their cabin for a meal. One thing they always seemed to have on hand, in addition to coffee, was a good bone broth as the first ingredient for a larger meal.
I found I loved the broth by itself: it seemed nutritious and thick and warming. I savored it, yet forgot about it when I returned home.
Fast forward 18 years, when after 12 years of undiagnosed fatigue, I discovered I had Lyme Disease, one of the most misunderstood and under-diagnosed illnesses of our time. I also learned about the importance of bone broth in treating it!
My history with Lyme Disease
Once diagnosed, I needed to decide on a course of treatment. Antibiotics were out of the question: my research showed that Lyme Disease often comes back once antibiotics are stopped, and long-term antibiotics may eliminate the beneficial bacteria in your gut and impair natural immunity.
After reading several books on Lyme Disease, I chose a doctor of oriental medicine who specialized in its treatment. He put me on a regimen of Chinese herbs but also suggested that I make my own bone broth which builds collagen in the body and enhances immunity.
Even though I'm vegan, I decided to make that exception to my diet. I had suffered too much for too long not to heed such expert advice. So the purpose of this post is to give you my health-enhancing bone broth recipe.
Today I seem to be Lyme-free, or at least free of the symptoms, so I continue to incorporate into my lifestyle anything that will enhance my immune system.
The benefits of bone broth
All bone broths are good for us [beef, chicken, fish, lamb, etc]. They are nutrient dense, easy to digest, rich in flavor and boost healing.
Our grandmothers were right when they told us chicken soup was healing. And making bone broth stock was part of our ancestors' tradition of using every part of the animal.
70-80% of our immune system is based on the health of the bacteria and microbes in our digestive tract. Because it's easy to digest, and full of nutrients, bone broth supports digestive health and nutrient absorption.
Here's what else it does:
protects joints [via collagen]
promotes gut health
maintains healthy skin
supports the immune system
detoxifies
aids metabolism
promotes healthy bones
You can't buy good broth in the supermarket, as pre-made and packaged bone broth will be full of sodium and preservatives such as MSG. However, there is a new trend of bone broth cafes sprouting up in major cities around the world, where the broth is made along the lines of what I'm going to present below.
Simmering over days releases healing compounds such as collagen, proline, clycine and glutamine. Bones contain many easy-to-digest nutrients, along with compounds that reduce arthritis, inflammation and joint pain.
My Bone Broth recipe
Get bones from a butcher who supplies meat and bones from hormone and antibiotic free, grass-fed animals. The point of bone broth is to enhance your health, not add toxins to it.
Bless the bones, smudging them with sage or cedar, to give thanks for an animal giving of its life so that you may continue yours. Pray for continued generations of animals to be treated humanely.
Roast about 5 pounds of beef bones in a 350 degree oven for 25 minutes per side as this helps give them more flavor. [Fish and poultry bones don't need browning]
Place the bones in a large pot or crock pot. [I prefer a crock pot as you can just turn it on and leave it without much watching over].
Add the following organic vegetables:
Carrots: 2 chopped
Onions: 2 chopped
Celery: 2 stalks chopped
Garlic: I love garlic and use 6 cloves. Adjust according to your taste
Parsley: ½ bunch
Bay leaf: 1
Any other herbs you're partial to.
Ginger: 1" chopped
8-10 black peppercorns
Sea salt: 2 tsp
Apple cider vinegar 2 T [to help pull nutrients from the bones]
Cover it all with water
Cook on slow for 24-48 hours. I prefer 36 hours. Slow cook time and low temperatures will extract the most nutrition from the bones. You will likely have to add water once or twice as it cooks.
When done, throw out all the solids and let the broth cool. I spoon out as much of the solids as I can with a slotted ladle, then pour the remainder into a colander sitting over a big pot. The colander captures the vegetables and the broth goes into the pot.
Store the broth in glass jars. What you won't use in 5 days should be frozen but be sure to leave enough room at the top of the jar for expansion, otherwise, when it freezes and expands, your jars can break. [I learned this one the hard way].
When the broth cools, a layer of fat will harden on top; this protects the broth beneath. Discard this layer when you are about to drink the broth.
You can use the broth as a base for soups or stews, but I heat a cup to drink every morning.
To your health!
"Good broth resurrects the dead."

South American proverb
If you enjoyed this post I'd be thrilled if you'd click one of the buttons below:
"Get my FREE ebook on Daily Rituals for Sacred Living and weekly Ancient Wisdom blog posts.". I promise never, ever to sell your email address.