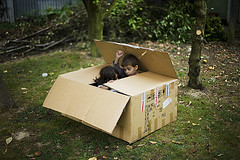 According to the Centers for Disease Control and Prevention, an estimated 5.4 million children ages 4 to 17 in the U.S. have been diagnosed at some time with ADHD  [attention-deficit/hyperactivity disorder ], and 66 percent of those with current ADHD take medication to control the condition.
Is ADHD perhaps over-diagnosed?  Might Ritalin be over-prescribed?  In my humble opinion, yes.  Is there something to be done about it?  Yes.
I am not a child psychologist or educator and I don't have children of my own.  BUT I am an acute observer of human nature and work in the holistic health profession and am of the opinion that most prescription drugs are over-prescribed.
Why do we as a culture go along with this?  Because we are a society of people who want a quick fix.
The best explanation I have found as to why ADHD is over-diagnosed comes from Sir Ken Robinson's brilliant February 2006 talk on Ted.com about an 8-year old child in school in the 1930s: Gillian Lynne.