An invitation to transformation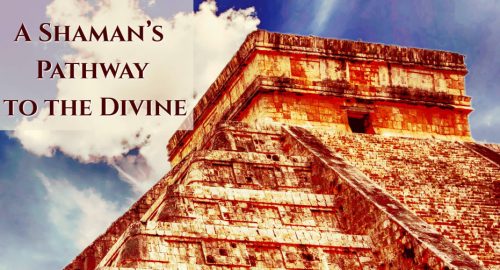 On February 24-25, 2018, John Kralovec and I will be facilitating a workshop at the Kripalu Center for Yoga and Health in Massachusetts designed for transformation:
A Shaman's Pathway to the Divine
Shamanism in today's world
Many people are fascinated by shamanism. But I believe what they really seek is a direct connection with a higher power [the Divine] and a way to experience that connection in every day life. This is what we teach.
The Ancients were masters of harmony, balance and caring for Mother Earth. Now is the time the ancient teachings are being revealed because they are needed more than ever.
My life has been steeped in ceremony and teaching for decades: studying with Native elders, training as a Sun Dancer, vision faster, pipe carrier and ceremonial leader. I now see these teachings are what is really needed in today's world to bring us all back into balance.
John has participated in Maya ceremonies in Mexico, Guatemala and Honduras since 1985 and is a gifted Visionary and Seer in the Maya Chilam tradition. His book on his experiences, Pathways to the Divine: One Man's Journey Through the Shamanic Realm of the Ancient Maya, has earned all five star reviews on Amazon.
Using ceremony and guided meditations, and sharing spiritual wisdom from the Maya and Native American cultures, our workshop focuses on self-healing, manifesting our life's purpose and directly experiencing the Sacred Earth Mother. In other words, learning to thrive, not just survive, in every aspect of life.
Kripalu is one of the foremost yoga and retreat centers in the world. Surrounded by 100 acres in the Berkshire Mountains of Massachusetts, in addition to classes it offers accommodations, healthy meals, daily yoga, walking and hiking trails, and more. It is the ideal place to take a workshop: Total immersion in a healthy, spiritual environment.
What people are saying
Here's what some of our prior students have said about our class:
"Life-changing!" E.R., Naples, Florida
"Molly and John presented Native spirituality in a way that made it come alive for me." J.W., South Haven, MI
"John and Molly are fantastic facilitators." K. S., Granville, OH
"I absolutely loved everything! It was so intense and deep. I never thought that I would feel the way I did." A.F., Troy, Ohio
"A powerful and profound experience…I feel renewed and returned to wholeness." C.M., Ohio
TO REGISTER, visit our page on the Kripalu website.
Questions? Feel free to contact me at peace at mollylarkin.com
I hope you'll join us.
Give me FREE access
to the NEW Meditation Mini-Course and weekly Ancient Wisdom posts.
Molly Larkin is the co-author of the international best-seller "The Wind Is My Mother; The Life and Teachings of a Native American Shaman"  and other books on health. She is passionate about helping people live life to their fullest potential through her classes, healing practice and blog at www.MollyLarkin.com