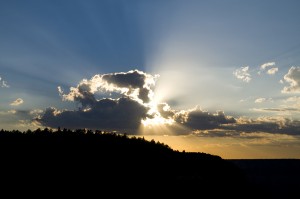 I've been reading with alarm the stories of radioactive fish being caught in the Pacific Ocean as a result of the Fukushima nuclear plant disaster in Japan in 2011. Including radioactive bluefin tuna caught recently off the California coast.
Fukushima is the largest nuclear disaster since the Chernobyl disaster in 1986, both measuring Level 7 on the International Nuclear Event Scale.
Even after the initial radiation leakage that occurred in 2011 as a result of the earthquake and tsunami, the Fukushima plant has continued to leak radiation into the Pacific Ocean.
There are no signs of it stopping because Japan can't even figure out why it's leaking.
All fishing off the Fukushima coast has been banned by the Japanese government, though restrictions were eased in June 2012 allowing fishing of 16 types of marine life.
But here's the thing:  fish swim.  And they can swim from Japan to the U.S. coastline. A bluefin tuna tagged by scientists was found to have crossed between Japan and the West Cost of the U.S. three times in 600 days.
Japanese and U.S. officials claim that the amount of radiation found in the bluefin is safe. But the overwhelming scientific opinion is that there is no safe level of radiation.
So there isn't a consensus.  But here's what you can rely on:  governments will lie to us and downplay the danger.
So we're on our own and have to fend for ourselves on what to eat and how to stay healthy.