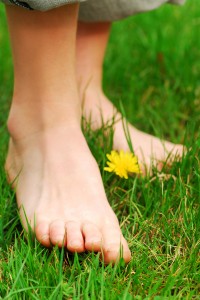 Do you know what you have in common with astronauts?  You both need to be in touch with the energy of Mother Earth in order to be healthy.  And "Earthing" [also known as "grounding"] is an easy way to do it.
Keeping astronauts in touch with the earth
We are so dependent on the earth's energy, also known as her electromagnetic fields [EMF], that when we leave the planet for prolonged periods, we suffer.
The first Astronauts in space for long periods experienced what was called "space sickness"  – nausea and disorientation.
The cause was a mystery until one scientist, Prof. Winfried Schumann, theorized it was because the astronauts, upon leaving the earth's atmosphere, were deprived of the earth's "song" or electromagnetic resonance.
The next space mission to leave earth had an instrument in it to emit 7.83 hz [hertz], the average frequency of the earths EMF.
The result? No more space sickness.
The frequency of 7.83 hz is now called the "Schumann resonance" and all modern spacecrafts are said to contain a device which simulates it.
New research indicates that the earth's magnetic resonances vibrate at the same frequency as human heart rhythms and brainwaves.  This would help explain why the practice of "Earthing" [standing barefoot on the earth] is so comfortable and beneficial.
Earthing is not new!
Molly Larkin is the co-author of the international best-seller "The Wind Is My Mother; The Life and Teachings of a Native American Shaman." She is passionate about helping people live life to their fullest potential through her classes and blog at www.MollyLarkin.com