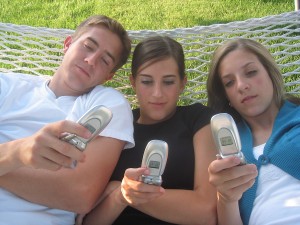 Over 8.6 trillion text messages are sent across the world each day.  And not one of them is from me.
I don't text. And it's not because I'm a technophobe.
As a writer, I spend most of the day on the computer and thank God regularly for the convenience it brings me.
And even though I love my iPhone, I have had texting disabled on it. Here are my reasons:
One: When one of my favorite T.V. characters was asked why he doesn't text, he replied "It's for teenage girls." I'm inclined to agree.
The average teen sends over 3000 texts per month. But the average teenage girl sends 4000. And these texts have a 100% open rate. How does that leave time for anything else?