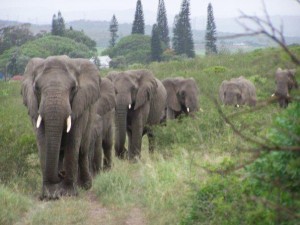 In 1998, prize-winning conservationist Lawrence Anthony purchased 5,000 acres of pristine bush known as Thula Thula in the heart of Zululand, South Africa.
He then transformed what had been a run-down 19th Century hunters' camp into a wild animal preserve and a center for eco-tourism.
In 1999, he was asked to take in a herd of "rogue" elephants from another game reserve. These wild elephants were going to be shot if another home was not found for them!
Knowing he was their last hope, and against all odds of success, Anthony took them in.
The story of how Anthony rescued and rehabilitated the elephants by winning their trust, becoming their friend, and learning to communicate with them is described in his best-selling book, The Elephant Whisperer: My Life with the Herd in the African Wild
But the most remarkable part of his story may be what happened after Anthony died.
Anthony passed away suddenly from a heart attack in March 2012.  Two days after he died, 31 elephants showed up at his house to say goodbye to their good friend.
They had walked over 112 miles in single file to arrive at his South African home.
The elephants had not been to his house in a year and a half, but it was clear they knew where they were going.  They stayed for two days and nights at his rural compound within Thula Thula without eating anything.
That is the way elephants grieve and express mourning for one of their own: standing vigil and showing quiet respect.
Then, after two days, they left, making their long journey back home.
How did they know?
How did these elephants, grazing miles away in distant parts of the park, know Anthony had died?