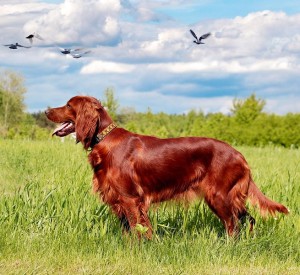 The Irish are known for being clever, particularly when it comes to getting out of a sticky situation.  So it's only natural they have such a glorious celebration on March 17 – St. Patrick's Day, celebrating all things Irish.
And it's not just the humans who are clever.  So are our animals, as this story demonstrates.
Many years ago a wealthy Irish man decided to celebrate St. Patrick's Day by going on Safari to Africa.  And he took along his faithful Irish Setter for company.
One day the dog started chasing butterflies and before long he discovered he was lost.  While wandering about he notices a leopard heading rapidly in his direction with the obvious intention of having lunch.
The dog thinks, "Boyo, I'm in deep trouble now."
Molly Larkin is the co-author of the international best-seller "The Wind Is My Mother; The Life and Teachings of a Native American Shaman." She is passionate about helping people live life to their fullest potential through her classes and blog at www.MollyLarkin.com