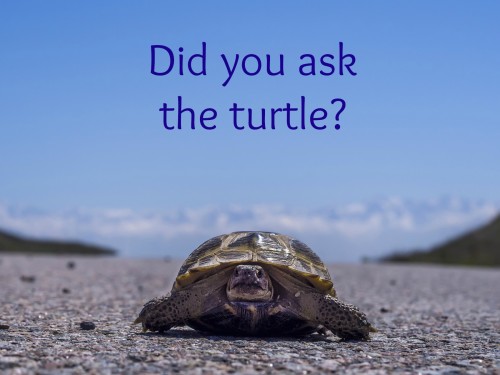 "Did you ask the turtle?"
That's a question Gloria Steinham was asked in college after helping a turtle to the other side of the road.
It's a cautionary tale about wanting to help people who don't need our help.
That can be a hard lesson to learn.
Gloria Steinem, writer and leader of the women's rights movement, gave a talk to Smith College alumni about lessons from her education, about how seemingly small incidents can have very big impacts.
At Smith, needing to fulfill her science course requirements, Ms. Steinem admitted she took a geology course because she considered it the least scientific of all the sciences.
While on a field trip in the wetlands of New England's Connecticut River, she saw a giant turtle which had climbed out of the river, crossed a road and was in the mud of an embankment of another road, seemingly about to crawl up and get squashed by a car.
Gloria, fearing the turtle was going to cross the road and get run over, picked it up and carried it to the other side.
Her professor saw this and said, "Did you ask the turtle before you moved it? That turtle probably spent a week crawling up that dirt road to lay its eggs in the mud by the side of the road, and you just put it back in the river."
So the lesson was, "Always ask the turtle."
Or put another way, always ask those you want to help what it is they actually need and want.
Molly Larkin is the co-author of the international best-seller "The Wind Is My Mother; The Life and Teachings of a Native American Shaman." She is passionate about helping people live life to their fullest potential through her classes and blog at www.MollyLarkin.com