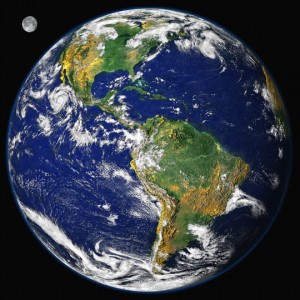 Is there a way to save the earth from home?  With vinegar and baking soda?
Taking action in saving the earth should be a priority of us all.
And sometimes big changes are the result of many people taking small steps.
Can one person change the course of environmental destruction with vinegar and baking soda?  Perhaps not.  But suppose everyone stopped using toxic cleaning products? Read on.
Tuesday, April 22, 2014, is Earth Day, an annual event encouraging environmental protection. It's an important reminder to us all of what's at stake.
For some time, Native American elders have predicted the time of  "Earth changes" – dramatic changes in weather patterns.  Part of the prediction was that the weather would be in the headlines on a regular basis.
Yes, we've reached that point now — this is the fulfillment of Native American prophecy.
The experts say that some of the change in weather patterns cannot be reversed – we just have to learn to adapt to it.
But we can keep it from getting worse by changing some of our own habits and patterns:
Molly Larkin is the co-author of the international best-seller "The Wind Is My Mother; The Life and Teachings of a Native American Shaman." She is passionate about helping people live life to their fullest potential through her classes and blog at www.MollyLarkin.com