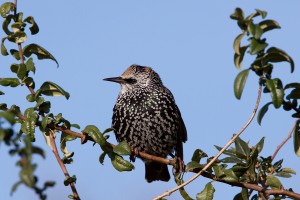 One of the great miracles of nature is a starling murmation. Have you ever seen one?
A flock of starlings moving as one through the sky in a tight formation is called a murmation.
My first glimpse of a murmation was a small flock over the Santa Monica Mountains, seen from my office window years ago.
At the time, I likened it to "turning practice"  — they'd fly in one direction and then turn in unison to fly in another direction.  Over and over and over.
I didn't get much else done that morning. I hadn't yet heard of murmations.  And didn't see it again until I came upon the video below, captured by wildlife photographer Dylan Winter.
It turns out that murmations can range from a small group of a few hundred starlings, to millions of starlings blocking out the sun.
Scientists don't know how two birds separated by hundreds of feet and hundreds of other birds can move as one. They say the answer seems to be rooted in physics.
I prefer to think of it as rooted in the Lakota prayer, Mitakuye Oyasin – we are all related. We are all one, connected by an invisible web of unity.