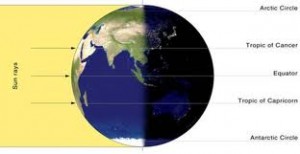 This year the spring equinox in the Northern Hemisphere is Thursday March 20, at 16:57 UTC [coordinated universal time].
It's a day of equal balance of the hours of light and dark before the sun continues its journey towards longer daylight hours and warming temperatures.
The equinox energy is strong for four days before and after March 20th, giving us time to bask in the opportunities and lessons it brings.
The Spring Equinox is not just another day
Ancient cultures throughout history have celebrated this time of rebirth of Mother Earth. But what does it mean for us? 
The earth is comprised of 70% water and, on average, so is the human body.  That alone is a giant clue as to how interconnected we are.
What happens to the earth's energy also happens within us, therefore we can experience more harmony if we work with the earth's cycles instead of ignoring them.  It's not just another day.
Here are some of the aspects of the Spring Equinox and how we can incorporate it into our own lives to help us better communicate with the spiritual forces of the earth.