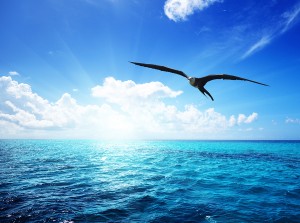 Did you know the world's largest garbage patch is in the ocean?
And that it consists of what was once hailed as a great future?
In the 1967 film, The Graduate, starring Dustin Hoffman, the new college graduate is cornered by a friend of the family with advice for his future:
Mr. McGuire: I want to say one word to you. Just one word.
Benjamin: Yes, sir.
Mr. McGuire: Are you listening?
Benjamin: Yes, I am.
Mr. McGuire: Plastics.
Benjamin: Exactly how do you mean?
Mr. McGuire: There's a great future in plastics. Think about it. Will you think about it?
[Note: the bolded line is ranked #42 in the American Film Institute's list of the top 100 movie quotations in American cinema.]
Little did we know that the great future of plastics could turn out to be The Great Pacific Garbage Patch – and a persistent tragedy on our planet.
Sadly, very few people even know about it.
The Great Pacific Garbage Patch
A quick oceanography lesson:
A gyre is a naturally occurring vortex of wind and currents that rotate in clockwise direction in the northern hemisphere, and counterclockwise in the southern hemisphere.
There are five major oceanic gyres on the planet. The North Pacific Gyre is the largest ecosystem on Earth and it covers most of the Northern Pacific Ocean. It has a clockwise circular pattern formed by four prevailing ocean currents.
The whirlpool effect of the gyre collects plastic debris that has been discarded into the ocean. An ironic example of The Law of Attraction at work.