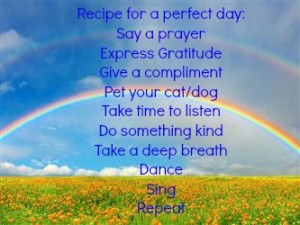 How does one start a good habit?  Particularly the habit of having a perfect day?
I admit that a checklist for anything, particularly a perfect day, might sound too unspontaneous to be a spiritual undertaking.
But to accomplish anything, we have to be intentional, and really work at it.  And work takes time without interruptions, which means being organized.  And checklists help with that!
This is my checklist for a perfect day [work day; days off are not so scheduled].  I am a person who finds routine productive and comforting.  If you are, too, you may find this checklist helpful.  By doing them in order, it guarantees they get done.
Change it to accommodate your lifestyle.
A tip:
If you have a commute to work, put commute time on your schedule.  And I highly recommend doing something peaceful or productive during that commute.  Listen to a motivating CD, do breathing exercises, or, if you're a passenger, meditate.  Commute time doesn't have to be wasted time.
The Perfect Day Checklist