4
Have you listened to the wind lately?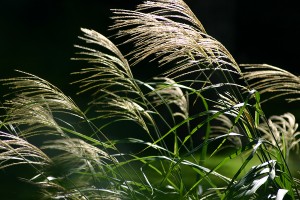 A few months ago I did something I've never done before.  I ate my lunch without simultaneously reading or working; instead I ate on my screened porch and listened to the wind.  Then I sat and listened some more.
It was a very strong wind; there were no other sounds to be heard over it.  The birds that are usually so vocal during the day were relatively silent, perhaps holding onto tree branches for dear life.
One of the main forms of meditation practiced by indigenous people around the world is observation of nature: watching, listening, feeling.  It opens new doors of communication with the natural world.  I don't do enough of that, but that day I did.
In The Wind Is My Mother, Bear Heart talks about the Giveaway tradition, which started at funeral services.  The family would hold a feast and a giveaway to express thanks to the guests for helping to put away their loved one with dignity. Perhaps they would give away blankets or shawls.
Bear Heart explained, "What they were doing was this – when you make someone happy, he will take some of that hurt that you're feeling, take it far enough away to where the winds will catch it.  It makes your own hurt a little easier."
That's just one of many gifts the wind can offer.
There is a beautiful prayer from the Seneca Nation that expresses gratitude for all the gifts of nature.  Of the wind it says,
[quote]"The wind strengthens our breath, clears the air as well as our minds and carries away our troubles.  It carries the voice of the ancient ones all over the earth, so that even in the desert, the smallest whisper reminds us we are never alone."[/quote]
When you hear the wind, stop and listen.  Ask it to carry your troubles away, and ask what lessons and gifts it may be bringing.
Feel free to let me know what you hear.
If you enjoyed this post, please share it with your friends!
Molly Larkin is the co-author of the international best-seller "The Wind Is My Mother; The Life and Teachings of a Native American Shaman"  and other books on health. She is passionate about helping people live life to their fullest potential through her classes, healing practice and blog at www.MollyLarkin.com