Irish Soda Bread recipe from my Irish Grandmother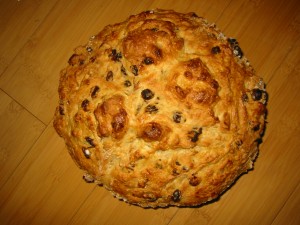 This recipe for Irish Soda Bread comes from my Nana Sue, born in Larah, County Caven.  A warm woman with a sharp wit, she raised six children and loved to cook.  This recipe has been handed down to each generation.
Best served fresh from the oven, I swear men have asked me to marry them after tasting it.
Other than the marriage proposals, the best part is that it's not a yeast bread, so it's very easy to make.  It's the interaction of the baking soda and buttermilk that makes it rise.
 Ingredients:
 4 c sifted flour.
3 tsp. double action baking powder
1 tsp. salt
½ tsp. baking soda
Sift the above over
1 c. seedless raisins and
1 T caraway seeds.
Stir well and add 2 C buttermilk to make a soft dough.
Turn the dough onto a lightly floured board and knead gently for a minute; or until it is smooth and not sticky.
Form it into a round loaf and use a knife to draw a cross across the top  [this lets the fairies out].
Brush milk or buttermilk over the top – this will give the crust a golden hue.
Place on a very lightly buttered baking sheet and bake at 375 degrees for 40-45 minutes or until the loaves are a delicate brown.
To test for done:  insert a knife – it's done if it comes out clean.  Also, flip it upside down and knock on the bottom.  It's done if it sounds hollow.  It also means the fairies are gone.
Cool slightly before cutting.  Serve with copious amounts of butter and enjoy.
Molly Larkin is the co-author of the international best-seller "The Wind Is My Mother; The Life and Teachings of a Native American Shaman"  and other books on health. She is passionate about helping people live life to their fullest potential through her classes, healing practice and blog at www.MollyLarkin.com