10
What blessing have you given today?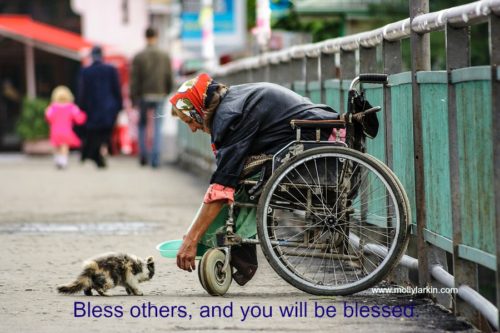 Several years ago, when the pop singer Madonna was studying the Kabbalah with Rabbi Philip Berg, she invited Rabbi Berg up on stage at the end of one of her concerts and asked him to give the audience a blessing.
That was a lovely sentiment, but an unnecessary one. Because I've learned that we can all give blessings.
What do blessings do?
There are any number of definitions of blessings, but my view is that a blessing asks for the Creator's protection, or a little gift of extra energy to make everything better.
When I first started studying with my teacher, Bear Heart, I would ask him to bless spiritual items I had acquired. I felt it would give them extra power if they were blessed by a medicine man.
Yet after 30 years of walking this path, I've come to understand that we all have the ability to give blessings, and it's a good practice to do so regularly.
Prayers are blessings, too. At the end of every purification lodge ceremony I attended with him, Grandfather Wallace Black Elk would pray for orphans, those living in war zones, prisons, those who are hungry, homeless, in hospitals, prisons, … the list can be endless.
We can do that, too, and perhaps should.
How to give a blessing
For a spiritual object, asking the Creator to imbue it with good energy, to be used to help people, for the highest good, is a way of blessing it.
In addition to how Grandfather Wallace prayed, here are some other situations which could benefit from blessings:
Children
The homeless
The disabled
Victims of traffic accidents.
Homeless animals
Road killed animals
Actions which are blessings:
Giving a compliment
Writing thank you notes
Volunteering for a good cause
Saying a kind word
Phrases which are blessings:
"Peace upon this house" – Irish
"Have a safe journey"
"I hope you feel better"
"I'm sorry for your loss"
"Thank you very much"
My ancestors, the Irish, are famous for blessings, and here you will find some classics: http://tacomaweekly.tripod.com/Irish-Quotations.html
When you pray for someone, you have given them a blessing
Some years ago there was a story in a British newspaper of a woman grievously injured in a multiple-car auto accident.
As first-responders struggled to free her from the car, she technically died, leaving her body and finding herself hovering above, watching the entire scene as an oberver. She became aware of a woman in a nearby car praying for her, and in that moment, found herself back in her body as the paramedics pulled her out of the car and put her in an ambulance.
But the story doesn't end there. While she was out of her body, she saw and remembered the license plate number of the woman who prayed for her.
Her recovery took some time, but after she was released from the hospital, she used the license plate number to find the woman who had prayed for her and went to see her to express her gratitude.
"It was your prayers that brought me back into my body after I had left it. I wouldn't be here without your kindness."
It isn't enough to want a good life for oneself. It is empty if we don't wish it for others, too.
We may never know the impact our prayers, blessings or kindness may have on another human being. Let the act itself be its own reward, knowing that you are taking your place in the Sacred Hoop of all life, striving to make everyone's journey a little easier.
Bless others, and you will be blessed.
And I leave you with my favorite Irish blessing:
"May the road rise to meet you,
"May the wind be always at your back,
"May the sun shine warm upon your face,
"The rains fall soft upon your fields and,
"Until we meet again,
"May God hold you in the palm of Her hand." – Irish Blessing
Molly Larkin is the co-author of the international best-seller "The Wind Is My Mother; The Life and Teachings of a Native American Shaman"  and other books on health. She is passionate about helping people live life to their fullest potential through her classes, healing practice and blog at www.MollyLarkin.com