"There is an old Navajo warning that if you kill off the prairie dogs there will be no one to cry for rain … In fact, the burrowing animals, like prairie dogs, open breathing tubes in the Earth.  The underground aquifers act like the diaphragm in human bodies; the moon as it passes raises and lowers the underground water table and the Earth breathes through the many fissures and tubes opened by the burrowing creatures.  The exhalation of moisture-ladened air, filled with negative ions, helps create rain."  Stephen Harrod Buhner in Sacred Plant Medicine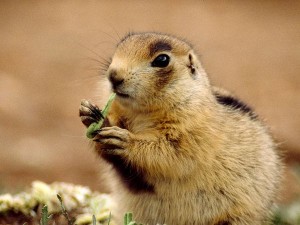 We are taught that we are all related, but how often do we acknowledge the contributions of the lowliest of animals, such as the prairie dog.
A member of the ground squirrel family, the best known of the five prairie-dog species is the black-tailed and they live in larger communities called towns which may contain hundreds of prairie dogs.
Prairie Dog communities are sophisticated
The largest recorded prairie dog town was found in Texas in 1900.  It covered 25,000 square miles and was home to up to 400 million prairie dogs.
In the 20th Century, 98% of all prairie dogs were exterminated.  They now live in only 5% of their historic habitat.
Their burrows have these remarkable features: