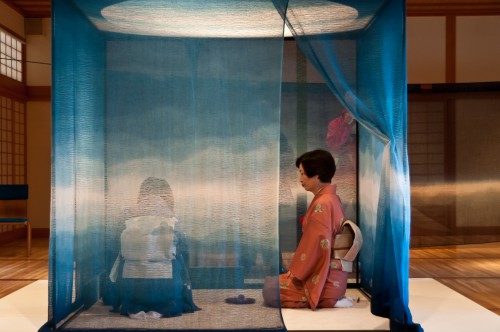 I love to look for the sacred in every day life. And there may be no better example than the opportunity offered by mindfully drinking a simple cup of tea, as in the Japanese Tea Ceremony.
Whether gazing out the window, or going through the formality of a Japanese tea ceremony, there is tranquility and grace to be found there.
I only became a tea drinker very recently, which is interesting since I'm Irish and they are great tea drinkers.
But I try to stay up do date on all health news and when I learned that a cup of green tea a day was good for us, and someone gave me a box of tea for my birthday a few years ago, I was off and running.
Ironically, once I started having a cup of green tea a day, I learned the latest prescription was four cups a day! Oh, well.
I don't really want to drink four cups a day, but have been pretty steady at having one cup a day of either green, white or red tea, all of which are said to have great healing properties.
The Japanese are reputed to have the lowest rate of heart disease in the world. Diet is a big part of that, but also, 50% of Japanese drink three cups of green tea day!
And there are over 1000 studies showing that green tea helps prevent heart disease.
 The Japanese Tea Ceremony
The Japanese tea ceremony, also known as The Way of Tea, is a beautiful example of finding the sacred in every day life.