4
How to Feel Fulfilled by Prayer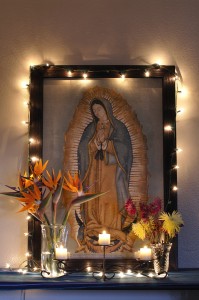 Last week's post was on the power of prayer. And one of my readers raised the excellent point that "sometimes it's hard for me to feel fulfilled when I pray. I don't know how to fix that."
And she is in very good company. Mother Theresa, of all people, also felt unfulfilled when she prayed!
In September 1979, she wrote a letter to the Rev. Michael Van Der Peet, saying:  "Jesus has a very special love for you. As for me, the silence and the emptiness is so great that I look and do not see, listen and do not hear."
The book Mother Teresa: Come Be My Light: The Private Writings of the Saint of Calcutta
(Doubleday, 2007) consists primarily of correspondence between Mother Teresa and her confessors and superiors over a period of 66 years.
The letters reveal that for the last nearly half-century of her life she felt no presence of God whatsoever. And yet her works with the poor are so famous she has been beatified on the road to sainthood.
She was beatified in 2003 based on the miraculous healing of an abdominal tumor after the application of a locket containing a picture of Mother Theresa. A second miracle is required for her to proceed to canonization and then on to sainthood.
Dark Nights of the Soul
Spanish mystic St. John of the Cross in the 16th century coined the term the "dark night" of the soul to describe a characteristic stage in the growth of some spiritual masters. It's marked by:
• Spiritual crisis
• Lack of connection
• Despair
• Doubt
The "dark night" of the 18th century mystic St. Paul of the Cross lasted 45 years, but he ultimately felt the connection he sought.
St. Therese of Lisieux, a 19th Century Carmelite, told her nuns: "If you only knew what darkness I am plunged into."
Rev. James Martin, editor of the Jesuit magazine America, calls Come Be My Light
  "a new ministry for Mother Teresa, a written ministry of her interior life," and says, "It may be remembered as just as important as her ministry to the poor. It would be a ministry to people who had experienced some doubt, some absence of God in their lives. And you know who that is? Everybody. Atheists, doubters, seekers, believers, everyone."
How to feel fulfilled when you pray
Creek spiritual leader Bear Heart Williams, the co-author of The Wind Is My Mother: The Life and Teachings of a Native American Shaman
, taught that we need nothing in order to pray and that whatever is in our hearts can be conveyed to God.
However, he added that, "It's better to create an atmosphere of prayer. When you set up an altar, it creates a very special time and a very special place."
I once asked him if prayer with a Native American Sacred Pipe was considered more powerful than prayer without a Sacred Pipe, and this was his answer:
"The pipe neither adds or subtracts power. Power comes from on high. It's not a matter of having more of the spirit than anyone else. It's a matter of the Spirit having more of us. It's a matter of yielding to that Spirit, and by so doing pipe, beads, candles, incense or anything that people might use in order to pray is meaningless if our heart's not right, if it's done for ego and ego alone.
"We must yield our life to the Greater Power, and by so yielding we may appropriate the power that comes from on high, and in that way we can ask for anything that we desire."
That being said, here are my suggestions for creating an atmosphere of prayer, which in turn may bring more fulfillment to one's prayer time:
1. Designate a specific place in your home as sacred space or an altar. Even a small corner will do. This is where you will pray every day.
Praying there every day will create an energy, a vibration of prayer that will start to help you feel connected. Most people feel inner peace when walking into a church, because the vibration of prayer is strong there, making it easy to feel connected.
By designating a place where you pray every day, it will build a feeling of sanctity and purity which will help you connect each time you go there.
2. Gather what represents the sacred to you:
• Perhaps light a candle to represent the light.
• A plant can represent life.
• Crystals or favorite rocks represent Mother Earth.
• Pictures or statues of saints or spiritual teachers.
• A Bible or other spiritual book that is inspirational for you.
• A rosary if you are Catholic.
• Anything from your chosen spiritual path that is sacred to you.
3. First express gratitude for anything and everything you are thankful for. This will create a feeling of happiness and connection.
4. Burn cedar to make your prayer time a little more ceremonial.
5. Ask for a feeling of connection. Ask for a sign.
6. Pray from your heart.
7. Trust!
I hope these suggestions are helpful, and that fulfillment won't be far behind.
Source for this article regarding Mother Theresa:  http://www.time.com/time/magazine/article/0,9171,1655720,00.html
If you enjoyed this post, I'd be thrilled if you'd click one of the buttons below.
Molly Larkin is the co-author of the international best-seller "The Wind Is My Mother; The Life and Teachings of a Native American Shaman"  and other books on health. She is passionate about helping people live life to their fullest potential through her classes, healing practice and blog at www.MollyLarkin.com