2
The Christmas Book Flood. Why not here?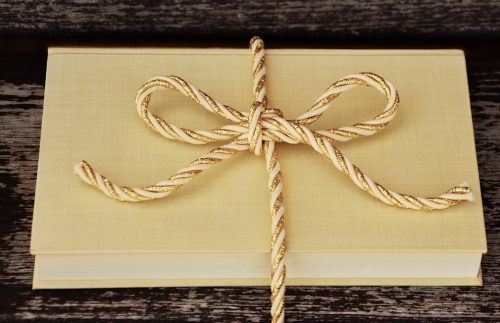 In Iceland, books are the traditional Christmas gift as part of  the "Christmas Book Flood." Books educate, inform, delight and inspire, and we can all use some of that.
Meanwhile, here in the U.S. in the past week, many people have been promoting their products for Black Friday and Cyber Monday and, even though I have books and courses to sell, I didn't do any of that.
I missed it, rather intentionally. And while Thanksgiving used to be my favorite holiday, I've become rather put off by the focus on food and shopping.
On Thanksgiving, the fourth Thursday of every November here in the U.S., we supposedly give thanks for all we have, then the next day run out to buy more stuff that we don't really need.
Some stores even open on Thanksgiving day for people to start their shopping — I boycott those stores year round!
To add insult to injury, the Thanksgiving Holiday was founded on a lie: the lie that happy Pilgrims and Native Americans feasted together to give thanks for the Pilgrims making it through a hard winter.
The truth is that the first Thanksgiving was proclaimed by the Governor of Massachusetts in 1637 to celebrate the safe return of an armed militia which slaughtered 700 Pequot Indians. The nice story we've been handed down through generations is a work of fiction.
Regardless of that history, the idea of a Day of Thanks is a good one, and one we should all take to heart.
But back to the concept of Holiday shopping:
The Christmas Book Flood
There's a lovely tradition in Iceland that I would love to see embraced here in the U.S. In Iceland, the best Christmas gift is considered a book. It's traditional to exchange books on Christmas Eve and spend the night reading them!
Iceland publishes more books per capita than any other country in the world, and most sales take place between September and December, in preparation for Christmas gift-giving.
The name of this Icelandic tradition is Jolabokaflod, meaning "The Christmas Book Flood."
I can't think of a better gift! I love books, and read voraciously. In fact, I can't fall asleep at night without doing some reading first.
So here are some books you might consider giving as gifts, if Black Friday and Cyber Monday didn't already tap you out:
FOR INSPIRATION: The Wind Is My Mother; The Life and Teachings of a Native American Shaman, which I wrote with Bear Heart. Originally published in 1996, and translated into 12 languages, it is still in print, making it a best-seller. There's a reason for that:
Over the years both Bear Heart and I have received letters and e-mails from people far and wide expressing how much The Wind Is My Mother has helped them and thanking us for writing it.
Some said it gave them the sense of purpose, direction or inspiration they had been seeking for years.
A trial lawyer told me it made him rethink his career and how he conducted it.
Many said it was their favorite book after the Bible.
I heard stories of people taking the book into the operating room when they had surgery so its good energy would help their healing.
Another reader told me she keeps it by her bedside and when she has a question, opens it at random to find meaningful guidance.
It would make a wonderful gift!
Or, GIVE THE GIFT OF HEALTH: For friends and family interested in health and stress reduction, there is The Fountain of Youth Is Just a Breath Away; Breathing Exercises for Relaxation, Health and Vitality, by me! Five stars on Amazon, here is what readers have said:
"Makes a complicated subject simple, clear and inspiring … a real treasure."
"This short, concise book can bring lovely changes to everyday life."
"Outstanding resource"
"Mind blowing… I feel better already"
"Remarkable primer"
"Highly recommended"
"A must read"
"Effective, informative, practical, motivating, easy-to-read"
"We've ordered multiple copies for our yoga studio"
"Wonderful book….a treasure"
FOR THOSE INTERESTED IN SHAMANISM, I recommend Pathways to the Divine; One Man's Journey Through the Shamanic Realm of the Ancient Maya by Otto John Kralovec III. It's an amazing read in the vein of Carlos Castenada.
Among the five-star Amazon reviews:
"Vivid encounters with an amazing culture – this book will stay with you."
"A compelling spiritual journey."
"A page turner."
"A compelling, rewarding read."
For anyone who might want to LEARN TO MEDITATE, there is my online meditation course: Meditations on the Natural World.
It's geared to help you find the time, create the habit and find the meditation technique that's right for you.
Normally $100, it's now $50 until the end of the year.
"I love the course. Molly's voice is so calming, the graphics are fantastic and the flow of information extremely well done." Florida student
"Very well done." Michigan student
"I love this course: it's clear and the videos are not too long." Italy
GUIDED MEDITATION: Guided meditations have been shown to bring the body into deep relaxation and increase our "natural killer cells" which fight cancer. Also, listening to guided meditations helps increase your intuition!
My Ancient Journeys CD contains three guided meditations and is available as a CD as well as an MP3 download HERE.  Five stars on Amazon.com
"Helps me relax every time." Amazon customer
"Excellent for escaping the stresses of everyday life." Amazon customer
"You will love Molly's soothing voice." Amazon customer
"Highly recommended!" Amazon customer
Bear Heart's Inner Vision Quest is available as an MP3 download HERE. In it, he takes the listener on a guided journey to meet their spirit guides. Excellent!
I hope you will consider any of these books, CDs or the course, as a holiday gift. You just can't go wrong giving the gift of inspiration!
Give me FREE access
to the NEW Meditation Mini-Course and weekly Ancient Wisdom posts.
Molly Larkin is the co-author of the international best-seller "The Wind Is My Mother; The Life and Teachings of a Native American Shaman"  and other books on health. She is passionate about helping people live life to their fullest potential through her classes, healing practice and blog at www.MollyLarkin.com