An exciting new book about Maya shamanism!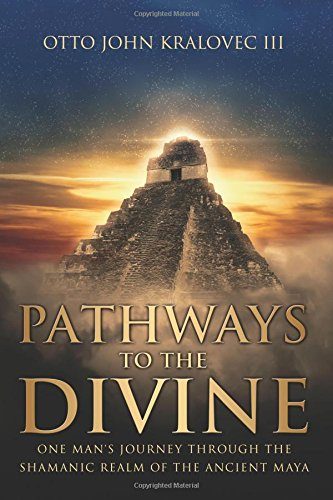 My teaching partner, John Kralovec, has just released his book about his 35 years experience with Maya and Native American shamanism: Pathways to the Divine; One Man's Journey Through the Shamanic Realm of the Ancient Maya. If Maya shamanism is of interest to you, I highly recommend it.
Here is the book description from Amazon:
Over the course of his thirty-five-year spiritual journey, Otto John Kralovec III has studied and participated in ceremonies with shamans and indigenous spiritual leaders throughout North America, Mexico, Guatemala, and Honduras.
Now, he vividly captures his inspiring personal shamanic odyssey toward his encounter with the Divine, supplemented by the latest anthropological findings on the ancient Maya, to guide us on a path back to the Source.
Kralovec's remarkable experiences-including his visionary encounter with Ix Chel, the Maya Moon Goddess, at Tikal; his shamanic journey through the Underworld with the spirit of Lord Pakal, ancient Palenque's most famous ruler; and his Awakening in the presence of Ix Mucane, the sacred Earth Mother, at Chichen Itza-helped him find a spiritual path of greater balance, awareness, and authenticity.
Pathways to the Divine chronicles a series of profound mystical events that resulted in Kralovec embracing an ancient spiritual worldview profoundly relevant to contemporary society. By looking beyond his Christian roots, Kralovec has developed a truer sense of his higher self and the meaning and purpose of human existence. His book not only relates his journey toward greater happiness, health, and well-being, but also illuminates ancient spiritual beliefs desperately needed today.
Reviewer Joy Parker, co-author of "Maya Cosmos; Three Thousand Years on the Shaman's Path," had this to say: "John Kralovec's Pathways to the Divine is a beautifully written and moving story which captures the heart and soul of the ancient Maya in a truly unique and memorable way. The writing is rich and dynamic and includes exquisite descriptions of the author's experiences. While grounded in historical fact and the latest archeological findings, John's profound spiritual insights add a new dimension to academic research. Stories such as Pakal's death and the author's encounter with Ix-Chel at both Tikal and Coba, are fantastically powerful."
Keep  your eye on my
Classes
page to find our workshops around the country.
Molly Larkin is the co-author of the international best-seller "The Wind Is My Mother; The Life and Teachings of a Native American Shaman"  and other books on health. She is passionate about helping people live life to their fullest potential through her classes, healing practice and blog at www.MollyLarkin.com