2
Sacred Ceremony for Newborn Babies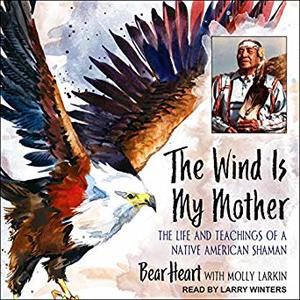 In this week's episode of the Molly Larkin podcast, I'm delighted to bring you an excerpt from the audio book of The Wind Is My Mother; The Life and Teachings of a Native American Shaman. It includes the sacred ceremony for newborn babies of the Muskogee Creek tribe: introduction to the elements.
I co-authored The Wind Is My Mother with my spiritual teacher Bear Heart. First published in 1996 and translated into a dozen languages, it's still in print and has clearly struck a chord with readers all over the world.
The audio book was just released, narrated by Native American actor Larry Winters, who did a remarkable job of capturing the book's heart and essence. Here's what Larry told his fans about his experience of narrating Bear Heart's voice for the audio book:
Hello Friend,
The Wind is My Mother, the recorded book, has just been published by Tantor Media. The below web address will get you there. I, Larry Winters, have been honored to be the narrator. I believe within the pages of this book there is an antidote for the confusion surrounding truth and trust which I see as one of today's most critical issues. Bear Heart was a spiritual guide who read the sign posts which have led to our current struggles, spiritually, environmentally and globally. The dedication of Molly Larkin in capturing Bear Hearts teaching in her writing, is a blessing.
I believe those who listen, will reawaken to wisdom they have always known in their souls. Sending this on will be a gift to whomever receives it and to the world at large.
https://tantor.com/the-wind-is-my-mother-bear-heart.html
Go well
Larry Winters
The introduction starts like this:
When I was just three days old, my mother took me to a hill top near our home and introduced me to the elements.  First she introduced me to the Four Directions — East, South, West and North.  "I'm asking special blessings for this child.  You surround our lives and keep us going.  Please protect him and bring balance into his life."
 Then she touched my tiny feet to this Mother Earth. "Dear Mother, Grandmother Earth, one day this child will walk, play and run on you.  I will try to teach him to have respect for you as he grows up. Wherever he may go, please be there supporting and taking care of him."
Here is the transcript of Chapter 1:  Wind excerpt
I hope you will take the opportunity to buy either the book or audiobook because both will enrich your life!
Molly Larkin is the co-author of the international best-seller "The Wind Is My Mother; The Life and Teachings of a Native American Shaman"  and other books on health. She is passionate about helping people live life to their fullest potential through her classes, healing practice and blog at www.MollyLarkin.com