3
Competition and the pink ribbon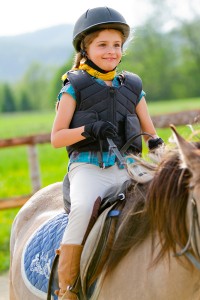 Years ago, I read a letter to the editor of Horse Illustrated Magazine that brought home the lesson of how much children have to teach us about competition.
It never fails to bring a tear to my eye; I hope you enjoy it, too.
Here it is, in its entirety, as written by Rhonda Goddard of Louisville, CO:
"Competition is essential.  We learn from it, our characters are shaped by it, and we crave the rivalry.  This competitive spirit is quite evident in the horse show world; few participants are unaffected by its influence.
"I am one of many who experience the thrills, woes and obsessions that accompany showing.  Like my competitors, I coordinate my season zealously, selecting the right judges, attending the correct shows, and accumulating the most points in order to achieve my self-imposed goals – high point awards, year end placings, regional and national show qualifications.
"I am driven to attain these accomplishments by nothing more than my own desire to 'succeed'.  It took a child to remind me, however, that participation, good sportsmanship, and just plain enjoyment must always be my highest priorities.
"For several years I have judged the annual show for the Colorado Therapeutic Riding Center in Lafayette, CO.  The show hosts a variety of events, including English and Western Equitation, Trail, and Dressage, as well as fun classes such as Egg in Spoon.
"Each time I judge this show I am reminded that I do not have problems, but rather minor inconveniences, in comparison with the difficulties these students must overcome.
"One participant kept drawing my attention throughout the day. She was perhaps ten years old and had tried her best to dress in proper hunt attire.  From far away she appeared the well-dressed rider, but upon closer inspection I noticed that her boots were really back snow boots.  Her breeches were stretch pants, and her scarlet jacket was a polyester castoff.
"She wore her outfit proudly, and rode as if she were astride the finest warm blood daddy's money could buy, rather than a kindly old gelding who'd known many better years.
"Although her physical limitations kept her from holding her reins correctly, the bay just kept right on trotting, ignoring the various involuntary commands to turn left, stop, turn right, stop.
"She had placed well in her first several classes. Her balance and ability were fair, but her sunny attitude displayed that extra "something" that judges seek.  By her last class, however, the August heat had taken its toll, and she rode less enthusiastically.
"Understand this, the gelding adjusted his pace accordingly, dropping to a dust-kicking shuffle.  Although she was my sentimental favorite, I sadly placed her last.
"When she received her fifth place ribbon her face was lit by the biggest smile I had seen all day.  She was helped to dismount from her horse, and she ran excitedly to her family.
Holding her ribbon aloft, she shouted, "Look, Mom, I finally did it!  I got the pink one!"
"I felt chastised and reprimanded.  This little girl had competed all day, not for the thrill of prestige or honor of being first, or best, but just to get the prettiest ribbon.
"She didn't worry about what that ribbon said about her performance or ability.  She simply wanted something beautiful that reminded her she had been there, and she had done well."
Rhonda Goddard
Louisville, CO
Molly Larkin is the co-author of the international best-seller "The Wind Is My Mother; The Life and Teachings of a Native American Shaman"  and other books on health. She is passionate about helping people live life to their fullest potential through her classes, healing practice and blog at www.MollyLarkin.com