6
Elephants never forget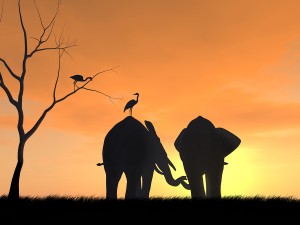 Did you ever wonder where the saying, "elephants never forget" comes from?
A 2000 PBS documentary presents a striking example of elephant friendship.
The documentary "The Urban Elephant" brought viewers the touching story of Shirley and Jenny, two crippled elephants reunited at The Elephant Sanctuary in Tennessee after a 22-year separation.
Shirley, a former circus elephant, had lived for two decades in a zoo without the company of another elephant, and with a chain around her leg.
Her reunion at the sanctuary with her old friend Jenny is an astounding example of the way our four-legged friends can experience friendship, love and compassion as profound as that of humans.
Shirley and Jenny caress one another with their trunks, trumpeting frantically until the barrier between their cages is removed so that they can be together.
Watch this touching 7-minute video of their reunion.  It's a truly heartwarming story of friendship:
http://www.wimp.com/elephantsreunited/
It really is true that elephants never forget.
Molly Larkin is the co-author of the international best-seller "The Wind Is My Mother; The Life and Teachings of a Native American Shaman"  and other books on health. She is passionate about helping people live life to their fullest potential through her classes, healing practice and blog at www.MollyLarkin.com