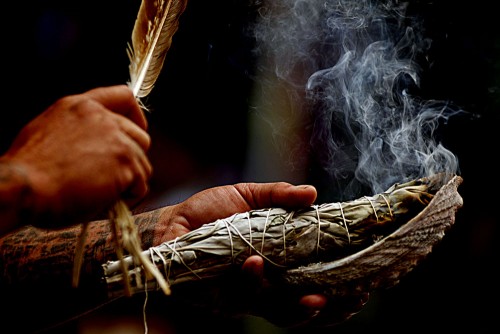 Many people have heard of "smudging," and may even practice it, but there's great value in knowing its history, and understanding the true sacredness of it.
There are three primary herbs used in the Native American tradition for smudging: sage, cedar and sweetgrass.
Sage is used to dispel negative energy.
Cedar is used for an overall blessing or to cleanse where there has been illness.
Sweetgrass draws in positive energy.
I have been taught the importance of burning only one herb at a time for smudging, otherwise you are giving mixed messages.
Sage is the most commonly used for cleansing the energy field of a person, place or thing, so I will focus on it for this post.
Molly Larkin is the co-author of the international best-seller "The Wind Is My Mother; The Life and Teachings of a Native American Shaman." She is passionate about helping people live life to their fullest potential through her classes and blog at www.MollyLarkin.com