Give gifts of inspiration and health this holiday season!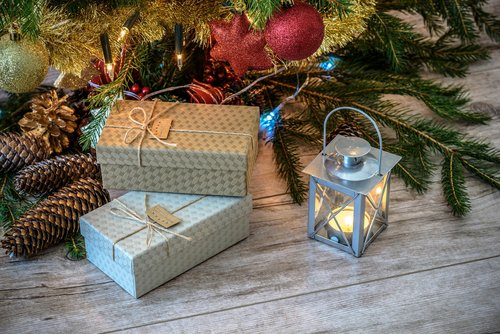 I can't believe there are only 6 weeks left in 2019! The  holiday season is upon us and gift-buying is on the front of my mind, as it may be yours.
I love to gift inspiration to my family and friends. After all, do we really need more "stuff?" Books and CDs are a wonderful way to share inspiration. Here are a few inspiring gift ideas:
Native American wisdom: 
The Wind Is My Mother; the Life and Teachings of a Native American Shaman by Bear Heart and Molly Larkin is beloved throughout the world. There's a reason it's been in continuous print since 1996 and translated into a dozen languages:
"An extremely inspirational book filled with wisdom that has been passed down for centuries. It is a combination of Universal Truths and every-day living. Grandfather Bear Heart sits right up there with Fools Crow as one of the True Holy Men of our time." – Amazon reader
"What an incredible book! It was warm, witty, insightful but mostly a "Keeper"! I leave it by my bed, and open it when I wish to be surrounded by the warmth of Bear Heart." – Amazon reader
"Bear Heart has a wisdom in his words that I use daily to further my spiritual growth. My copy lives right there on my nightstand and gets referred to on a regular basis. I have bought about three dozen copies of this book to share with friends and family trying to get their spiritual lives in balance." – Amazon reader
Available as a paperback, e-book and audiobook here: The Wind Is My Mother.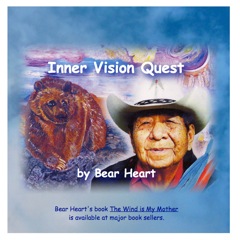 Inner Vision Quest; Guided Journey to Meet Your Spirit Guides
An MP3 guided journey by Bear Heart.
"Bear Heart, a full-blooded Muskogee Creek Indian and one of the last 'trained' medicine men, shares this knowledge, combining it with his more formal, graduate [studies] in psychology to build a bridge between Native American and modern spirituality."—Publishers Weekly
Known for conducting vision quests for spiritual seekers, Bear Heart created this CD for those people who would not have the opportunity to go on a traditional vision quest. He has created a very powerful journey to meet your spirit guides.

A gift of health:
The Fountain of Youth Is Just A Breath Away; Breathing Exercises for Relaxation, Health and Vitality.
"If I had to limit my advice on healthier living to just one tip, it would be to learn how to breathe correctly." Best-selling author, Andrew Weil, M.D.
"This is a fabulous book! It is clear, concise, and really helped me see how breathing can be an essential tool and important component in healing. Molly's enthusiasm is inspiring. After reading this book I was immediately able to begin a breathing practice and will share these gems with my clients."
~ Patricia Duncan, Counselor
"Makes a complicated subject simple, clear and inspiring … a real treasure." Amazon reader
"This short, concise book can bring lovely changes to everyday life." Amazon reader
A gift of meditation:
Ancient Journeys; Three self-healing Meditations by Molly Larkin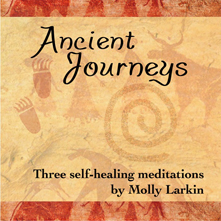 Available as MP3 and CD
"Excellent self-healing CD." Amazon buyer
"A must-have guided meditation tape." Amazon buyer
"Awesome." Amazon buyer
Meditations on the Natural World online course by Molly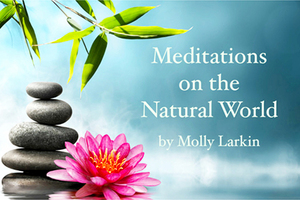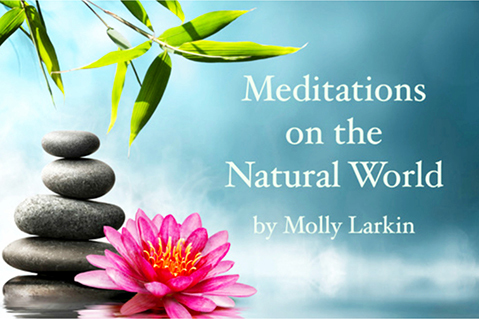 HOLIDAY SPECIAL PRICE OF $75, [reduced from $135].
Designed for people who have a hard time finding a meditation technique that works for them,
or can't find the time or create the habit. Lifetime access to this 3 hour video course.
"I love this course. Molly's voice is so calming, the graphics are fantastic and the flow of information extremely well done." David, Florida
I hope you find these gifts a wonderful choice for your loved ones [or, yourself!]
Blessings,
Molly
Molly Larkin is the co-author of the international best-seller "The Wind Is My Mother; The Life and Teachings of a Native American Shaman"  and other books on health. She is passionate about helping people live life to their fullest potential through her classes, healing practice and blog at www.MollyLarkin.com