6
Do you live like you were dying?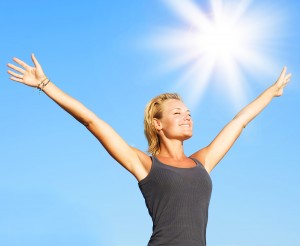 My post for last week was: "It's a new year. Are you getting better or standing still?" Here's another piece of advice on how to avoid standing still:  live like you were dying.
Country singer Tim McGraw sang a great song on the subject called, "Live like you were dying. "
The song tells the story of how someone dealt with getting a diagnosis of a terminal illness.  Here are some of the lyrics:
I was in my early forties
With a lot of life before me
When a moment came that stopped me on a dime
I spent most of the next days, looking at the x-rays
Talking 'bout the options, and talking 'bout sweet times
I asked him when it sank in, that this might really be the real end
How's it hit you, when you get that kind of news?
Man, what'd you do?
And he said,
I went skydiving
I went rocky mountain climbing
I went two point seven seconds on a bull named Fu Man Chu
And I loved deeper,
And I spoke sweeter
And I gave forgiveness I'd been denying
And he said, Someday I hope you get the chance,
To live like you were dying.
Real people and real diagnoses
Some people say their cancer diagnosis was the best thing that ever happened to them. Because it gave them the opportunity to reset how they live their life.
A study at the Bristol Cancer Clinic in England showed a 70% cancer survival rate among people who used their diagnosis as a vehicle to learn "what is the lesson in this?"  Instead of asking, "why is this happening to me?" they asked, "why is this happening for me?"
The Bristol Cancer Clinic study also found that for people who lived with cancer over 4 years, they had three things in common:
They changed their diet to vegetarian or vegan.
Had a belief in a Higher Power.
And had an honest partner willing to provide emotional support.
Wendy Chioji was a popular Florida news anchor who shared her diagnosis and treatment with the public.
"All of a sudden it's like, maybe you have next year and maybe you don't. So you've just got to go for it right now," she says. "I'm going to live big and bold, taking chances and calculated risks. If you get this second chance you can go out and make a bigger difference than you could before because there is no fear of failure now."
She left behind her glamorous television career to move across the country and become a partner in a competitive-cycling performance center. She not only competes but helps other cancer survivors compete, too.
Wendy is a 12-year breast cancer survivor who has completed 5 Ironman races and traveled the world since her diagnosis.
She says, "every time I cross the finish line, I'm a little bit further away from being sick and it's one more thing that somebody who might be sick right now can look at and say, 'In a few months, I can do the same thing'. . . . It's strange, but the cancer diagnosis was the best thing that ever happened to me in my life. It has opened unbelievable doors on many levels."
What's stopping you?
Don't wait to be diagnosed with a serious illness to cherish life and live your dreams.
Those dreams you had as a child?  Realize them now. It's never too late.
If not you, who?
If not now, when?
What would you do if you knew you could not fail?  What's stopping you?
No reason is good enough.
"What power wouldn't I trade for a little more time with my family? 
"What price wouldn't I pay for an evening with friends?"
 -Lee Atwater, George Bush campaign manager as he lay dying from a brain tumor at age 40
Go for it! You truly can.
Molly Larkin is the co-author of the international best-seller "The Wind Is My Mother; The Life and Teachings of a Native American Shaman." She is passionate about helping people live life to their fullest potential through her classes and blog at www.MollyLarkin.com