Slow Down Aging with Restorative Yoga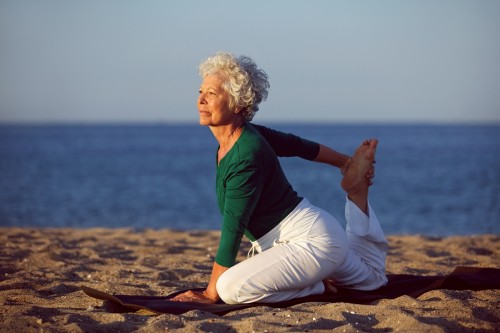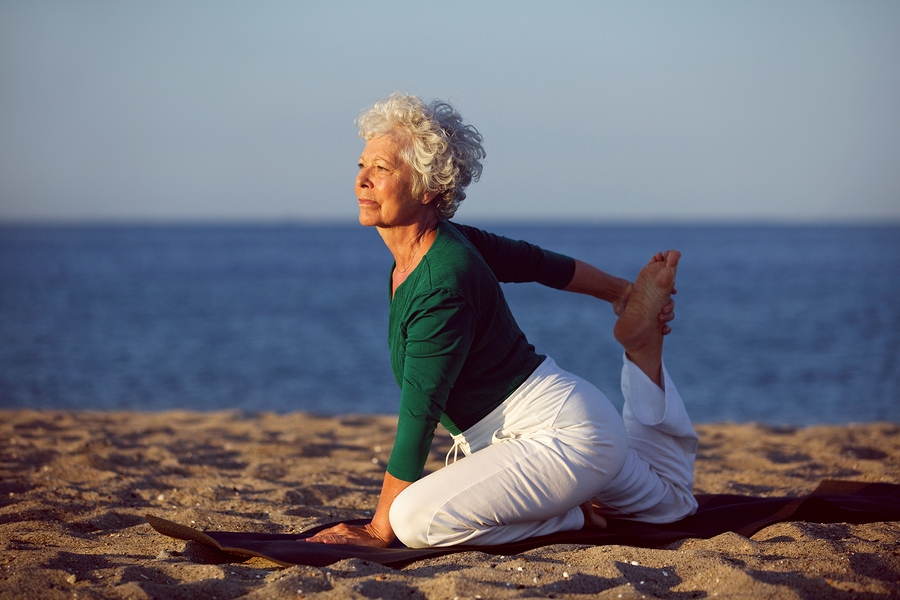 I am pleased to enjoy excellent health in my  70s and I owe it to four things:
A 30-year yoga practice
40 years of a daily morning stretching routine
A vegan diet
Daily meditation and breath work
And the thing is, its never too late to start any of these practices!
I am delighted to present this guest post by Marielle Lea on Restorative Yoga, along with a link to an amazing infographic. Give it a try and I do believe you will enhance your health! Keep in mind, with any good thing you do for yourself, consistency is the key!
7 Restorative Yoga Poses
When it comes to yoga, you may think of challenging poses that twist your body into a pretzel. While there are certainly yoga poses that require a great deal of flexibility and focus, some poses are simple to do and easy for yogis of all ages. 
Unfortunately for some, the aging process can sometimes mean painful joints, stiffness, and lower energy. While this may lead some to limit their physical activities, low-impact exercises like water aerobics, pilates, and yoga can be extremely beneficial for adult and senior health! 
In fact, yoga offers specific health benefits that might surprise you. Here are just some of the ways yoga can improve your body and mind.
Cardiovascular Function
Oxidative stress, an imbalance of antioxidants and free radicals in the body, is thought to be an underlying cause of hypertension (high blood pressure) in adults. This hypertension, if left untreated, can lead to serious health complications including kidney disease, stroke, and heart failure. 
For those who practice yoga regularly, oxidative stress levels were significantly lower. This means that regular yoga practice could help lower high blood pressure and therefore reduce the risk of heart disease. 
Joint Health 
According to the CDC, over 54 million people in the United States have arthritis. This condition is not limited to the elderly and can occur in people of all ages. It can cause pain and stiffness in the joints, leading to reduced mobility. However, yoga has been proven to reduce pain for those living with arthritis and osteoarthritis. 
Depression and Anxiety
An estimated 16.2 million Americans (6.7 percent of the population) suffer from major depressive disorder. For adults over age 55, that number jumps to 20 percent. 
Yoga has been found to help alleviate symptoms of depression and anxiety, reduce stress, and improve mood in those who practice regularly. 
Curious to see how else yoga can improve your health? Check out this infographic for more amazing health benefits, plus tips on the best poses to try!
Marielle Lea is a passionate writer and native Texan. To learn more about health, wellness and aging, go to A Place for Mom.
Molly Larkin is the co-author of the international best-seller "The Wind Is My Mother; The Life and Teachings of a Native American Shaman"  and other books on health. She is passionate about helping people live life to their fullest potential through her classes, healing practice and blog at www.MollyLarkin.com