Exciting news! The Wind Is My Mother is now an audiobook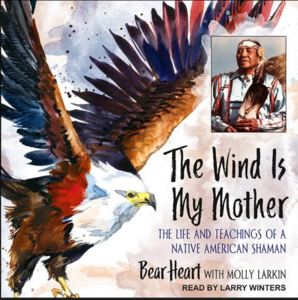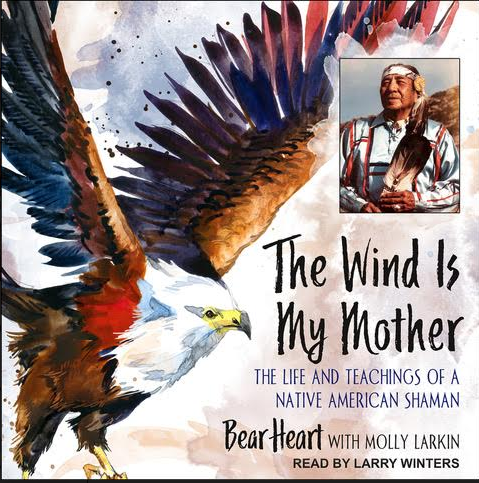 The Wind Is My Mother, which I co-authored with my teacher Bear Heart is now an audiobook. You can get your own copy of the audiobook by clicking HERE.
Read by Native American actor Larry Winters, the audiobook carries the same meaning and depth as the physical book.
The Wind Is My Mother; The Life and Teachings of a Native American Shaman was first published in 1996 and translated into 12 languages. Still in print after 22 years, it is considered an "evergreen" in the publishing industry:  a book that goes on selling for years because of its timeless message.
Here's what I wrote in the Epilogue added in 2012:
"Over the years both Bear Heart and I have received letters and e-mails from people far and wide expressing how much The Wind Is My Mother has helped them and thanking us for writing it.  Some said it gave them the sense of purpose, direction or inspiration they had been seeking for years.  A trial lawyer told me it made him rethink his career and how he conducted it. Many said it was their favorite book after the Bible.  I heard stories of people taking the book into the operating room when they had surgery so its good energy would help their healing.  Another reader told me she keeps it by her bedside and when she has a question, opens it at random to find meaningful guidance.
"I have felt very humbled and grateful to be a part of this treasure. My goal of having Bear Heart's words inspire others was clearly achieved.  What I did not expect was how very much his words and teachings would change me."
Narrator Larry Winters told me he had a similar experience of feeling changed by reading and speaking Bear Heart's powerful words. Here is what he wrote to his email list announcing the publication of the audiobook this week:
Hello Friend,
"The Wind is My Mother," the recorded book, has just been published by Tantor Media. The below web address will get you there. I, Larry Winters, have been honored to be the narrator. I believe within the pages of this book there is an antidote for the confusion surrounding truth and trust which I see as one of todays most critical issues. Bear Heart was a spirit guide who read the sign post which have led to our current struggles, spiritually, environmentally and globally. The dedication of Molly Larkin in capturing Bear Hearts teaching in her writing, is a blessing. I believe those who listen  will be reawakened to wisdom they have always known in their souls. Sending this on will be a gift to whomever receives it and to the world at large.
Go well
Larry Winters
https://tantor.com/the-wind-is-my-mother-bear-heart.html
I hope you will take the opportunity to get your own copy of the audiobook, and listen during your travels. It will be a good way to keep your spirits lifted in today's hectic world.
Blessings,
Molly
Molly Larkin is the co-author of the international best-seller "The Wind Is My Mother; The Life and Teachings of a Native American Shaman"  and other books on health. She is passionate about helping people live life to their fullest potential through her classes, healing practice and blog at www.MollyLarkin.com