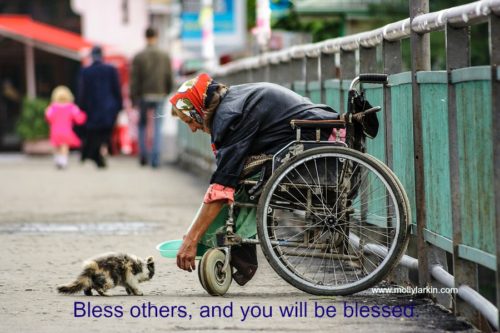 Several years ago, when the pop singer Madonna was studying the Kabbalah with Rabbi Philip Berg, she invited Rabbi Berg up on stage at the end of one of her concerts and asked him to give the audience a blessing.
That was a lovely sentiment, but an unnecessary one. Because I've learned that we can all give blessings.
What do blessings do?
There are any number of definitions of blessings, but my view is that a blessing asks for the Creator's protection, or a little gift of extra energy to make everything better.
When I first started studying with my teacher, Bear Heart, I would ask him to bless spiritual items I had acquired. I felt it would give them extra power if they were blessed by a medicine man.
Yet after 30 years of walking this path, I've come to understand that we all have the ability to give blessings, and it's a good practice to do so regularly.
Molly Larkin is the co-author of the international best-seller "The Wind Is My Mother; The Life and Teachings of a Native American Shaman." She is passionate about helping people live life to their fullest potential through her classes and blog at www.MollyLarkin.com